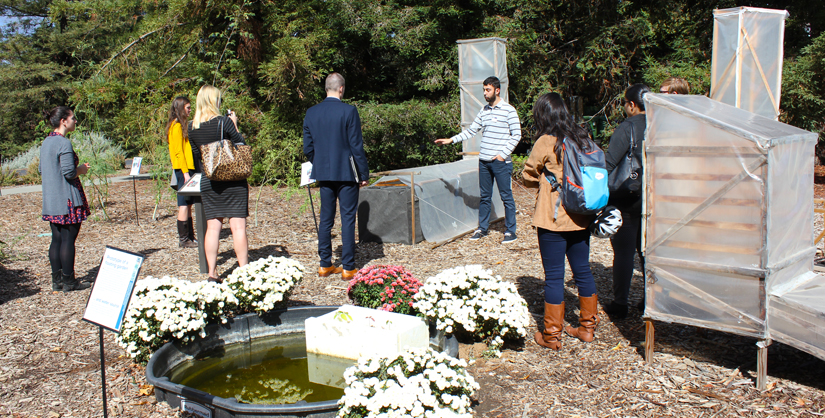 How new innovations and research from the University of California are helping to end global poverty and hunger was the focus of a standing-room-only event recently at UC Davis. Among the participants recognizing these efforts were representatives from the offices of U.S. Representatives John Garamendi, Doris Matsui, Ami Bera, and Mike Thompson.
The event was hosted in part to highlight the passage of the Global Food Security Act of 2016, which sets the U.S. government's global food security strategy and includes 24 agricultural research programs called Feed the Future Innovation Labs.
Of the nation's 24 Feed the Future Innovation Labs, five are led by UC Davis researchers — more than any other university.
The five Feed the Future Innovation Labs based at UC Davis focus on agricultural research related to horticultural crops (fruits and vegetables), poultry, chickpea, millet, economic assets and market access.
Rob Bertram, chief scientist for USAID's Bureau for Food Security, provided an overview of how agricultural research fits into the U.S. government's global food security strategy in a presentation called, "Feeding the Future Starts with Feeding the Present."
"We have scientific capacity that we can leverage in addressing the needs of smallholders," Bertram said. "This can be very much a win-win partnership; it's not just a one-way street," he said, speaking of the benefits across borders of agricultural research.
Elizabeth Mitcham, director of the Horticulture Innovation Lab at UC Davis, spoke about the advantages of Feed the Future Innovation Labs in developing and adapting knowledge to address food security challenges. She also highlighted UC Davis researchers who have worked with the Horticulture Innovation Lab in Tanzania, Uganda, Cambodia, and elsewhere.
"Not only are we building capacity of those researchers involved in our projects, but we build lifelong relationships in many cases," she said. "This is essential."
"We may have a research project that solves the problem of today, but tomorrow they may have a new problem — and we want them to have the tools to solve them," Mitcham said.
Michael Carter, director of the BASIS Assets and Market Access Innovation Lab also at UC Davis, spoke about some of his program's work related to risk management, in particular index-based livestock insurance.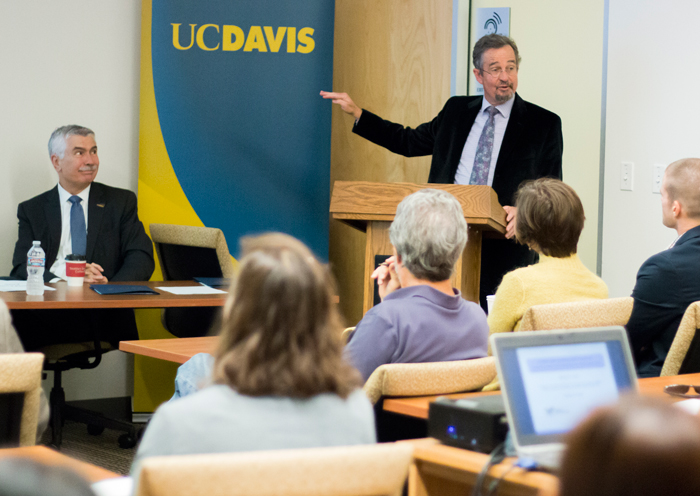 "We focus on what it is that prevents people from taking advantage of the opportunities available to them," he said. "Risk makes people poor and also keeps people poor."
The three speakers joined a panel along with Huaijun Zhou, director of the Genomics to Improve Poultry Innovation Lab, and also Eduardo Blumwald, director of the Climate Resilient Millet Innovation Lab, both based at UC Davis.  Moderating the panel was Jan Hopmans, associate dean for international programs at the UC Davis College of Agricultural and Environmental Sciences.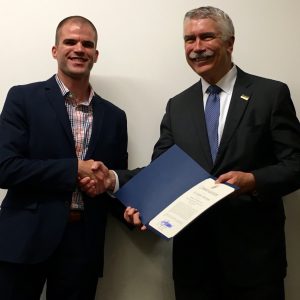 Bertram was in Davis, Calif., to accept an Award of Distinction as an alumnus of the UC Davis College of Agricultural and Environmental Sciences. During this seminar, Bertram was also presented with a commendation and congressional records recognizing his leadership in international agriculture and nutrition from the offices of Reps. Garamendi, Matsui and Bera.
"We really are excited to be working and going forward with you in the House and Senate to fulfill the goals of the Global Food Security Act," Bertram said, in thanking the congressional staffers.
"I think there's no accident that California is a leader, with the diversity of its agriculture," Bertram said. "The fact that California is so challenged and yet has this incredible agriculture really positions it to be a leader."
At the conclusion of the event, Britta Hansen led a small tour of the Horticulture Innovation Lab Demonstration Center nearby, where there is an outdoor display of agricultural tools UC Davis researchers use with smallholder farmers around the world.
Update: Reporter Catherine Cheney attended the event and wrote about "How universities are sowing the seeds to Feed the Future" published Oct. 24 on Devex, the global development news website.
More information: