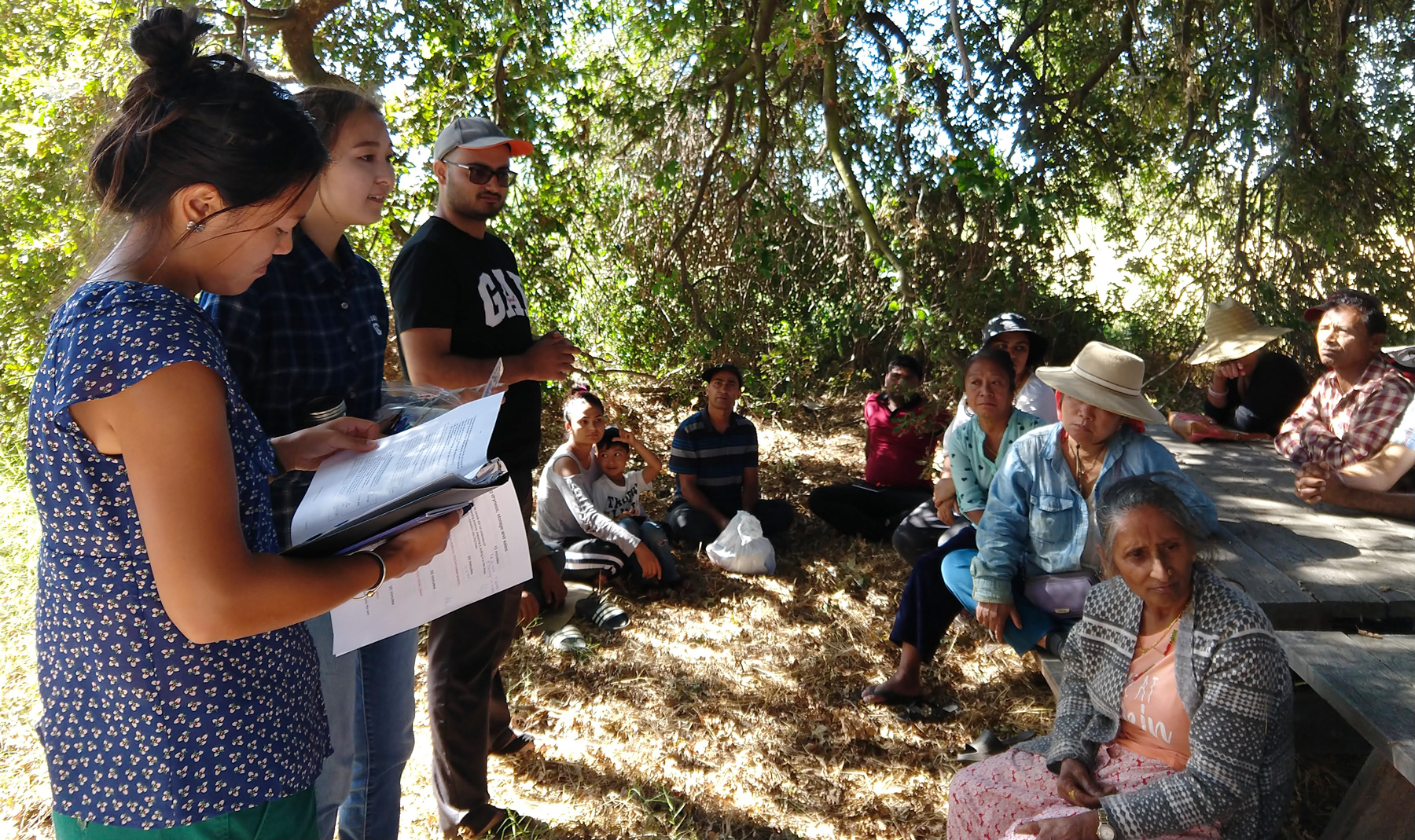 Much of the Horticulture Innovation Lab's hands-on work to help farmers improve how they care for crops after harvest takes place overseas. However, this summer members of the team shared their postharvest expertise much closer to home. In Sacramento, the Horticulture Innovation Lab partnered with the International Rescue Committee (IRC) to lead workshops for farmers on how to use a chimney solar dryer. 
The team's first workshop at IRC's New Roots farm covered the benefits of dried fruits and vegetables, walking farmers and IRC staff through the drying process. Refugee farmers from Nepal, Bhutan, Afghanistan and Iraq actively engaged in drying a variety of products from both their own plots and from local grocery stores.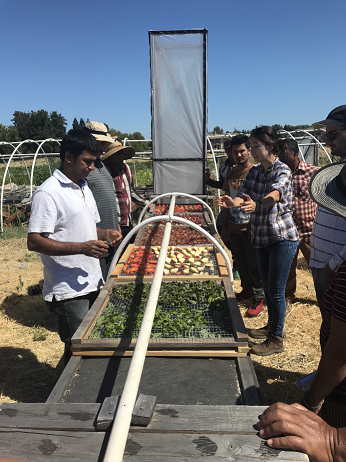 UC Davis student Michelle Boutell took the lead in explaining the mechanics of the dryer. Air enters the dryer through an opening in the plastic cover at one end, heats up as it crosses the black surface over which the produce is arranged on drying trays, and then exits through the chimney, taking the moisture with it. Archie Jarman and I demonstrated proper washing and best practices for preparing produce for the dryer.
A second workshop focused on the storage and consumption of dried fruits and vegetables. Our team, joined this time by graduate student Lauren Howe, brought samples of properly and improperly dried produce. Michelle used these samples to demonstrate the DryCard, a simple-to-use tool developed by UC Davis researchers that indicates if product is dry enough to store safely without growing mold. The DryCard measures the relative humidity of the air inside a closed container, which is correlated to the moisture content of the food product itself. Below 65 percent relative humidity, mold will not grow and the product is safe to store in an airtight container.
Using the dried produce from the previous workshop, Lauren led a tasting session during which the farmers shared how they use dried produce here in the United States and in their countries of origin. The day ended with a discussion of marketing dried produce, and input from IRC staff on shared community use and management of their farm's chimney solar dryer moving forward. 
"This will help farmers to produce and sell vegetables from our farm for their future use," said Ram Khatiwoda, IRC garden and market specialist. "[It] will help us to produce healthy and hygienic dried fruits and vegetables ... in comparison to the open sun drying process."
Personally, I found it thrilling to work with the Horticulture Innovation Lab's postharvest technologies in a farm setting so close to home, and to see how the chimney solar dryers that I walk past on campus every day can help farmers in Sacramento. I also learned new uses for dried produce from the farmers.
Farmer Lal Rai from Bhutan described to me one way she traditionally uses dried produce. First she washes the dried product, then soaks it in water before continuing with the recipe as normal, for example to make the Nepali dish tarkari/sabji (vegetable curry).
Lal Prasai, also from Bhutan, said he is excited about the new opportunities that the chimney drier opens up for him. He explained that he already uses his plot at the IRC to grow organic produce for himself and his family, and uses income from the farm stand to pay his water bill.
More information: