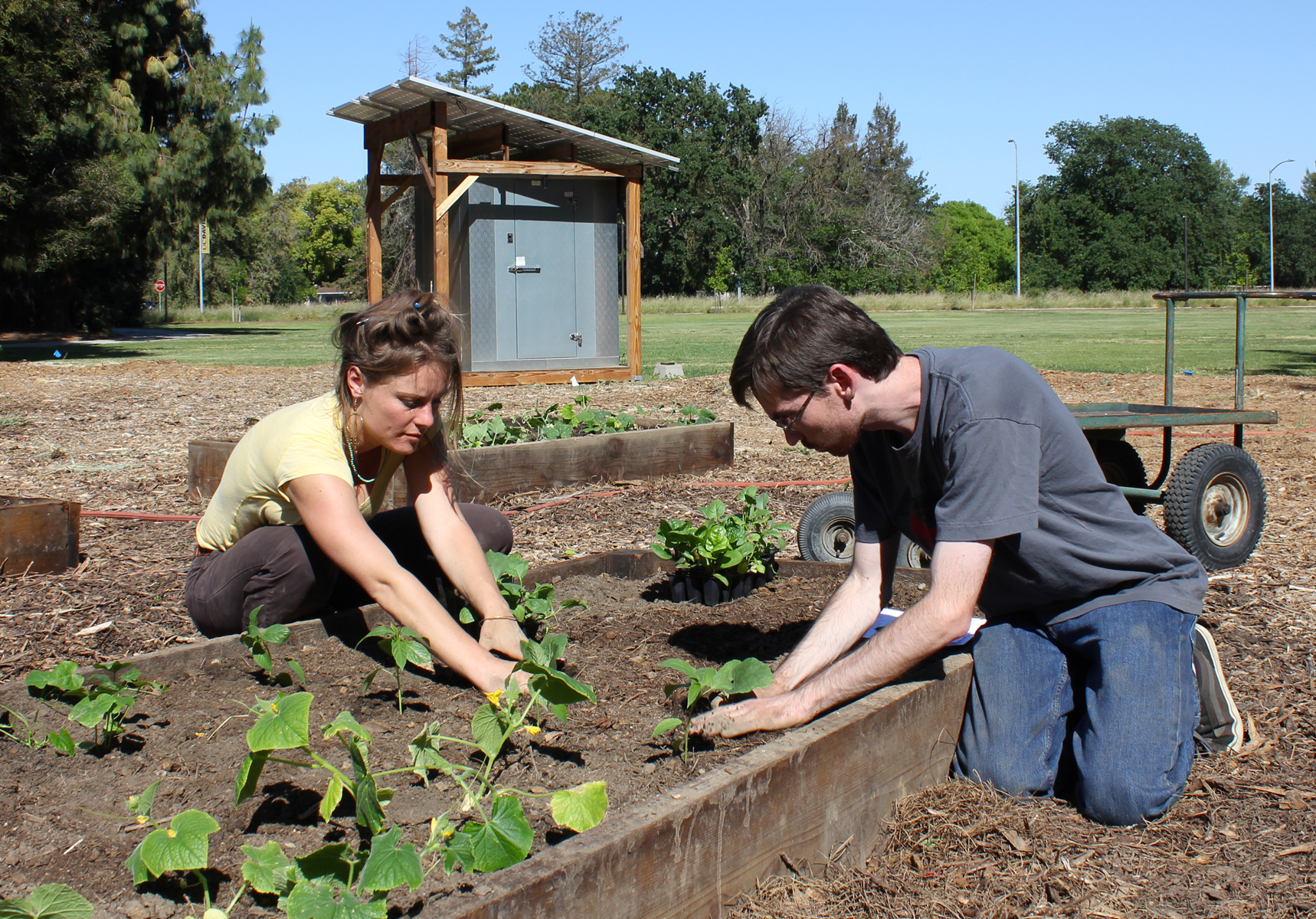 In addition to Regional Centers around the world, the Horticulture Innovation Lab now hosts a smaller "Demonstration Center" for visitors to the University of California, Davis, campus. (See campus map for exact location.)
The demonstration center's mission is to share technologies and practices with colleagues visiting from around California, the country, and the world. This will be an active site for students, faculty, and staff to test new horticultural tools and demonstrate best practices for growing fruits and vegetables — particularly those helpful to small-scale farmers in developing countries.
This new demonstration center is also part of the UC Davis GATEways Project, a campuswide initiative developed by the UC Davis Arboretum and Public Garden to showcase the academic strengths of UC Davis, inspire life-long learning and engage with the local community.
Technologies at the center
The demonstration center includes adaptations and demonstrations of horticultural technologies. These horticultural innovations have been designed to help smallholder farmers overcome field and market challenges at low costs and with simple materials. Here are some of the technologies demonstrated at this center, with links to basic fact sheets in PDF:
These are some additional technologies that the Horticulture Innovation Lab commonly uses, but that are not currently on display at the center:
The Horticulture Innovation Lab demonstration center also includes several garden beds with a rotating assortment of African and Asian varieties of vegetables.
Updates and photos from the demonstration center
Find updates on our blog about current activities at our campus demonstration center:
We also keep photos from the center in this Flickr album: Horticulture Innovation Lab at UC Davis
Grand opening event
On Oct. 16, 2015, The Horticulture Innovation Lab held the official grand opening of this demonstration center to coincide with World Food Day. More than 100 people attended the event, with speakers including Congressman Ami Bera (CA-7) and Helene Dillard, dean of the College of Agricultural and Environmental Sciences.
For more about the event, read the Davis Enterprise newspaper article about it "On World Food Day, UC Davis looks to the future."
2016 events
On Oct. 11, the Horticulture Innovation Lab hosted a tour of the demonstration center in honor of World Food Day and as part of the UC Davis Campus Community Book Project. Guides shared information about solar dryers, cool storage, postharvest handling, and fruits and vegetable varieties from Africa and Asia. See the archived calendar event for more information.
More about the Horticulture Innovation Lab at UC Davis
The Horticulture Innovation Lab is led by a team from UC Davis with funding from the U.S. Agency for International Development. This highly collaborative program is part of Feed the Future, the U.S. government's global hunger and food security initiative.
Learn more about the Horticulture Innovation Lab's background and history.
Learn more about the Horticulture Innovation Lab's partner universities and other collaborators.
More about the Horticulture Innovation Lab Regional Centers
The Horticulture Innovation Lab Demonstration Center at UC Davis joins a network of Regional Centers already opened by the Horticulture Innovation Lab in other countries. Find out more about our Regional Centers.
38.537097337712, -121.74720446064