The Horticulture Innovation Lab's newest annual report is fresh off the presses, documenting the program's accomplishments from October 2015 – October 2016 (FY 2016) as part of the U.S. government's Feed the Future initiative.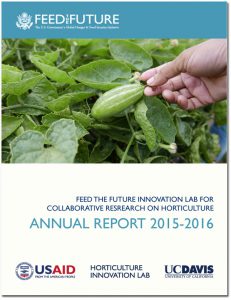 Together with our research partners at universities, government agencies and NGOs, we took important steps this year in improving livelihoods of farmers and their communities through horticulture.
We welcome you to read about the knowledge and impact the Horticulture Innovation Lab generated this year on behalf of small-scale farmers in horticulture. Highlights include: 
Increased income: From data of 60 farmers in Cambodia, it is evident that farmers can earn income from small commercial vegetable home garden plots (100 m2). With sustainable intensification, earnings went as high as $500 per year per 100 square meters.
Better nutrition: Findings indicate that amaranth, an African leafy vegetable, is reliable as a rich source of magnesium and calcium.
Applied research: 473 farmers applied improved technologies or management practices with U.S. government assistance. Half of these farmers using new practices are women.
Increased conservation: Farmers in Cambodia are increasing the amount of their land under conservation agriculture for vegetable production.
Adoption of improved technologies: Three large seed companies in Bangladesh have adopted drying bead technology for drying their vegetable seeds.
Lesson learned: Time and money saved by having access to irrigation and growing more crops can lead women to adopt other forms of income-generating activities and enterprises.
Long-term trainees: Our program trained three postdoctoral associates and 31 students, including 10 bachelor's, 15 master's and seven doctoral students. Fifty percent of the students were female.
Short-term trainees: Horticulture Innovation Lab researchers also provided short-term training to 954 individuals.
New technology: Research included field testing or scaling of 130 new technologies (including seed varieties) and also increased dry storage for seeds by 9,201 cubic meters.
The Horticulture Innovation Lab began its second phase by funding major research projects focused on nutrition and gender equity, as well as the scaling of technologies and techniques found to be successful in previously funded research. During the past year, the Horticulture Innovation Lab also funded a major postharvest project in Rwanda that will investigate constraints that lead to postharvest losses in four value chains and test interventions to reduce these losses. (See our current project portfolio for more details.)
During the past two years the program has seen promising results emerge from these projects and teams actively engaged with nearly 800 farmers, development practitioners, and others who benefited directly from U.S. government assistance.
Read more: Feed the Future Innovation Lab for Collaborative Research on Horticulture's Annual Report, 2015-2016 (PDF)