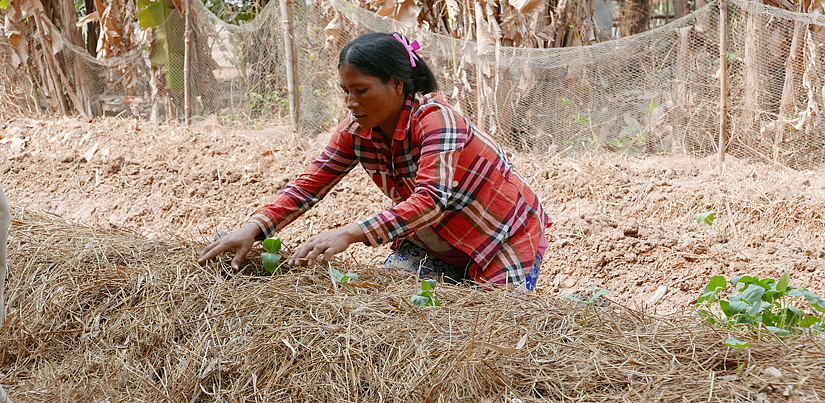 A pregnant farmer growing nutritious vegetables in 100 degree heat was the impetus for an article on the Huffington Post last week about hidden hunger, Cambodian farmers, and the Horticulture Innovation Lab's work.
Amy Beaudreault, nutrition and health director for the UC Davis World Food Center, wrote the article after attending the Horticulture Innovation Lab's recent annual meeting in Cambodia.
.@HortInnovLab meeting kicks off in Cambodia; 70% of fruits/veggies are imported @FeedtheFuture #nutrition #ag pic.twitter.com/fr5gwmu7Oi

— Amy R. Beaudreault (@amybeaud) March 14, 2016
With about 75 other participants, she visited horticultural project sites and took photos of women farmers who demonstrated their new conservation agriculture practices (see more photos from this tour day). The farmers have been adopting new agricultural practices with support from a Horticulture Innovation Lab project led by Manuel Reyes of North Carolina Agricultural and Technical State University.
By combining drip irrigation with the three principles of conservation agriculture — diverse crops, no-till and mulch — these farmers were able to grow 5-6 different vegetable crops on small plots throughout the year. These practices not only yield high-value, nutritious vegetables, but reduce some of the drudgery of farming in comparison to their traditional farming practices.
With her nutrition focus, Beaudreault makes connections in her article between these women farmers, the vegetables they are growing for their families and childhood stunting.
"In resource-poor countries like Cambodia, diets are often dominated by starchy staple foods that lack micronutrients. Even with the known benefits of having a diverse diet, a major obstacle in measuring diet quality and micronutrient adequacy is the lack of indicators for advocacy, assessment, and accountability," she wrote.
For researchers, a new guide to measuring dietary diversity, recently published by the FAO with input from UC Davis researchers, may better enable studying diverse diets across broad populations.
Read the whole article on the Huffington Post for more connections between vegetables, women farmers, livelihoods, vitamins, and nutrition research.
Related information: