Travel to West Africa.

Join a young entrepreneurial team.

Support farmers.

Thrive through challenges.
Graduate students and recent graduates who are interested in working with farmers in West Africa are in luck: the Horticulture Innovation Lab project in Guinea is looking for a few great interns to join the team.
The team is establishing a new, youth-led Horticulture Training and Services Center that promotes horticultural practices to farmers with the help of young entrepreneurs. This internship opportunity will support 4-6 interns from U.S. universities or from the Panamerican Agricultural School, Zamorano, to work with the Horticulture Innovation Lab staff along with local entrepreneurs, extension agents, undergraduate student interns from Honduras, and Peace Corps volunteers.
Interns will help establish technology demonstrations at the center, which is located on the campus of the Institut de Recherche Agronomique de Guinée (IRAG) in Kindia, Guinea. They will also help develop training courses and assist local agents in training Guinean youth, farmers, and agricultural processors. 
Candidates should have substantial experience in agriculture, horticulture or agribusiness. Desired qualifications include the ability to work in French, experience in farm production, knowledge of postharvest technologies, and/or experience in international development work. See full Guinea internship application description (PDF). 
Travel supported, but expect challenging living conditions
Positions are available for 1-4 months, beginning as early as July. Positions can also be arranged to start later in the fall, as long as they begin by Dec. 31, 2018. Though the internships are officially unpaid, interns will be provided travel to and from Guinea, housing and local transportation, in addition to receiving per diem payments for additional living costs.
Another important qualification for this position is the ability to live in a challenging environment, where running water and electricity are not always guaranteed. Interns should be prepared to encounter challenging living and working conditions, including slow and difficult local travel, problems with running water, and interruptions in electricity.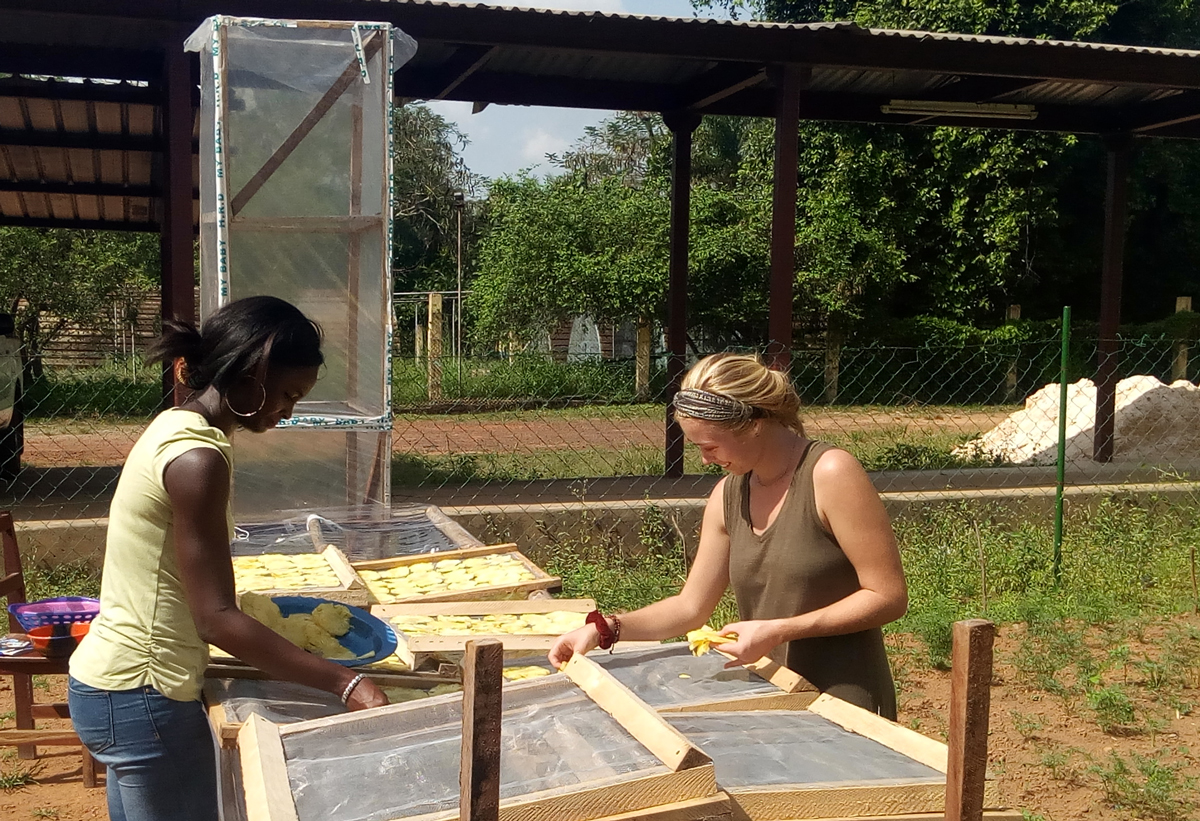 Fruit and vegetable research, opportunities in Guinea
The Horticulture Innovation Lab began working in Guinea in the wake of the Ebola outbreak, when its researchers were tasked with evaluating local fruit and vegetable production as part of long-term recovery response by the U.S. Agency for International Development.
A resulting USAID-funded report, the Rapid Assessment of Horticulture in Guinea, made recommendations for improving Guinea's horticulture sector, including opportunities related to entrepreneurship, training, and postharvest practices. The report also specifically examined important local horticultural crops, including chili pepper, okra, eggplant, tomato, mango and orange.
That work grew into a project funded by the USAID/Guinea mission to establish and open a Horticulture Training and Services Center, with leadership from young entrepreneurs who are part of the AVENIR program (Agents en Vulgarisation, Entrepreneuriat et Innovation Rurale, or "agents of extension, entrepreneurship and rural innovation") with Feed the Future Guinea Agricultural Services.
The Horticulture Innovation Lab's global research network advances fruit and vegetable innovations, empowering smallholder farmers to earn more income while better nourishing their communities. The program is led by a team at the University of California, Davis, with funding from the U.S. Agency for International Development, as part of the U.S. government's global Feed the Future initiative.
Internship details:
More information: