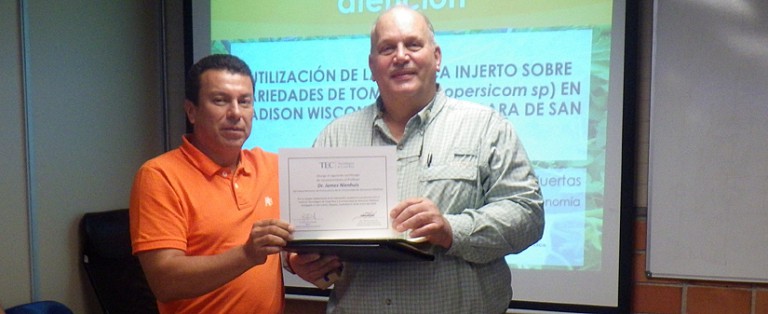 Jim Nienhuis, a professor at the University of Wisconsin-Madison and a partner of the Horticulture Innovation Lab, was recently recognized for his partnership with a Costa Rican university.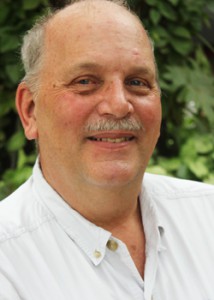 On Feb. 11, Nienhuis received an award from the Instituto Tecnológico de Costa Rica (ITCR), signed by the school's rector and its agriculture school director, in recognition of his broad partnership and academic exchange with the institution.
As part of his ongoing partnership with ITCR,
three students in Costa Rica — Tania Corrales, Rebecca Duran and Ramon Rodriguez — are doing their thesis work on tomato and pepper grafting. For example, Duran recently defended her thesis work with tomato grafting, wherein she replicated an experiment that is ongoing in Honduras (Nienhuis was on her evaluation committee). The location for her experiment was San Carlos, Costa Rica, where growing tomatoes commercially outside of a greenhouse can be nearly impossible due to soil pathogens — unless grafted to resistant rootstock. Duran and the other students are providing their research data to a project that Nienhuis leads for the Horticulture Innovation Lab.
That project is the Horticulture Innovation Lab's "Plántulas de Esperanza" project, which is working to expand tomato grafting for entrepreneurship in Guatemala and Honduras. This project is focused on helping smallholder farmers in Guatemala and Honduras — and its funding is also limited to these two countries — but Nienhuis maintains ongoing, long-term relationships with ITCR faculty and students. The students in Costa Rica are providing their research data to support the project, without additional funding, with an eye toward helping farmers and womens' groups.
Nienhuis previously led the "Semillas de Esperanza" project, which identified and produced disease-resistant vegetable seed in the region.
More: