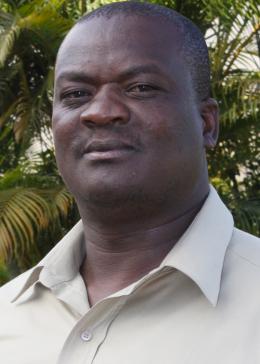 Alumni
Nyabinda Naman Ondego is a project manager for Academic Model Providing Access to Healthcare (AMPATH). He is a collaborator on the Horticulture Innovation Lab project "Improving nutrition with African indigenous vegetables in Kenya and Zambia." 
His work entails coordinating research activities between partners who work at AMPATH, KALRO-Kakamega, the University of Eldoret, Rutgers and Purdue universities. His work focuses in eight counties in western Kenya: Kisumu, Nandi, Trans Nzoia, Uasin Gishu, Kakamega, Busia, Bungoma, and Vihiga. His role includes training groups, conducting research with farmers and farmer groups, reporting research outcomes and findings, consulting with partner organizations, and representing AMPATH at Horticulture Innovation Lab meetings. 
Nyabinda is passionate about working with the most vulnerable groups in the community, in particular helping farmers increase their income and access to nutrition.  He helped to develop AMPATH'S community banking tool, "Group Integrated Savings for Empowerment," which gives out loans to individuals. He holds a certificate in Value Chain Development and Business Service Markets from the Small Enterprise Education and Promotion (SEEP) Network and also a certificate in Postharvest Handling from the Postharvest Education Foundation. 
He has a Master's of Science in Soil Science and a Bachelor's of Science in Forestry from Moi University.
What is your favorite travel experience?
My visit to UC Davis to attend the annual Horticulture Innovation Lab conference.
What do you like most about science?
Discoveries of new technologies and innovations that improve human lives.
The best thing about collaborating across borders:
Endless learning of new skills, ideas, cross culture exchange and new technologies. 
Organization(s)