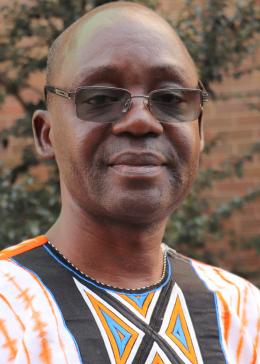 Alumni
Based In
Ouagadougou, Burkina Faso
Dr. Some Koussao is a plant breeder at the Institut de l'Environnement et de Recherches Agricoles (INERA) station at Kamboinse, Burkina Faso. He is also a collaborator on a Horticulture Innovation Lab project focused on improving postharvest practices for tomatoes in Burkina Faso.
Some is an agronomist whose research is focused on plant breeding and focuses on root and tuber crops, in addition to vegetables. He is working to develop improved crops for good nutrition adapted to the Sahel West Africa. He also works to ensure good use of crop products after harvest (postharvest activities).
In addition to working in Burkina Faso, he also work closely with colleagues from Ghana, Nigeria, Côte d'Ivoire, Mali and many counties in East and Southern Africa. He speaks French and English.
Some holds a Ph.D. in plant breeding from University of Ghana's West Africa Centre for Crop Improvement (WACCI).
Favorite fruit:
Papaya
Favorite vegetable:
Tomato
When I'm not working, you can find me…
Watching football