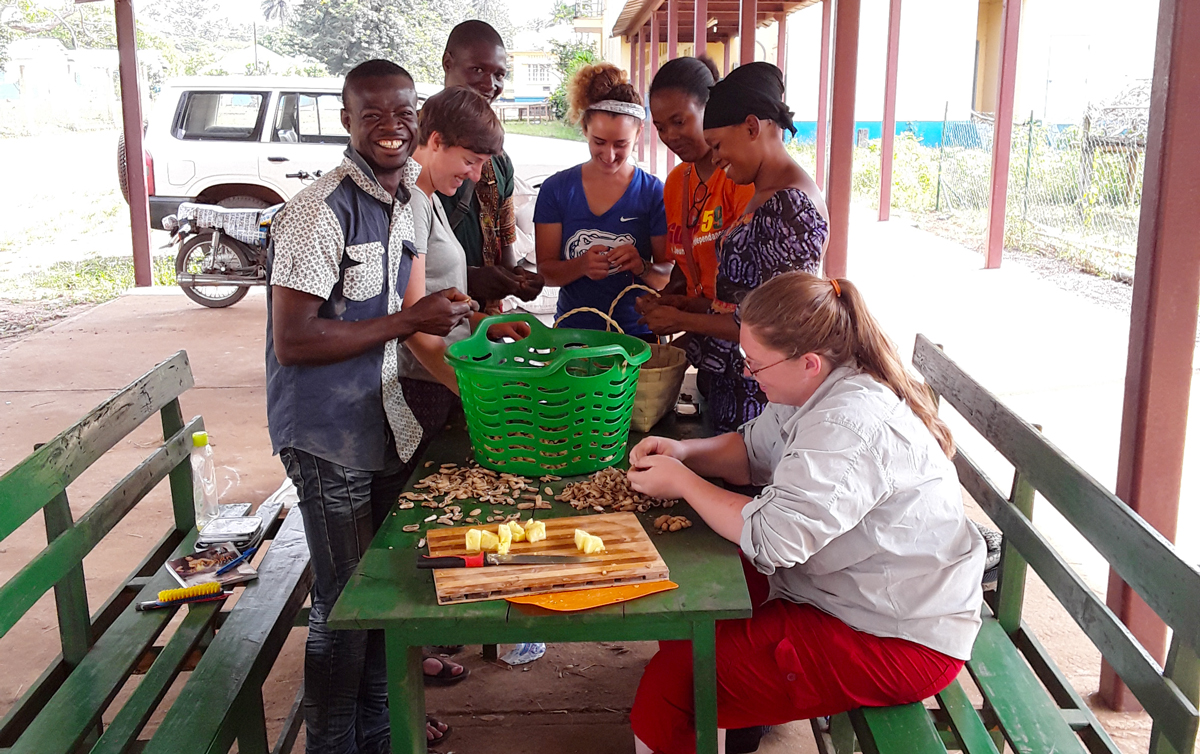 International alliance of young leaders leverage their talents and green thumbs to support horticulture
For Brooke Stefancik, an internship in the West African country of Guinea was a literal graduation from student life into the first steps of a potential career working in agricultural extension and international development.
Mere days after completing her master's thesis defense at Purdue University, Stefancik flew to Conakry, Guinea. Upon arriving at the airport, she ran head-on into one of the current local challenges when her transportation was delayed because of protests — inflamed by youth unemployment in Guinea, which hovers around 60 percent. 
An eye-opening first glimpse at Guinea
Guinea is a young country, demographically speaking, and experiencing economic struggles. In 2012, more than two-thirds of the nation's population was younger than 15 years old. An Ebola outbreak that began in December 2013 claimed more than 2,500 lives — primarily farmers from rural communities. For the majority of Guineans, agriculture is their main source of income, with small family farms employing about 95 percent of the population. But despite its abundance of agricultural workers, Guinea is plagued by food insecurity. More than 1.9 million Guineans experience food insecurity.
In Guinea, Stefancik would be interning at a new Horticulture Training and Services Center, working with young entrepreneurial Guineans and other horticulture interns to engage youth in promoting agricultural innovations among rural communities.
"In America, I was waiting in the airport freaking out, but when we landed, it was the best thing for me at that time," Stefancik said. "I joke that I needed Guinea more than Guinea needed me."
She was welcomed by Mamadou Thiam, a UC Davis staff member with the Horticulture Innovation Lab who manages the program's Horticulture Training and Services Center at the Centre Régional de Recherche Agricole de Foulayah just outside of Kindia, Guinea. Stefancik was the fourth of five interns to put her academic knowledge to practical use in Guinea, working to help farmers and entrepreneurs strengthen the local food system.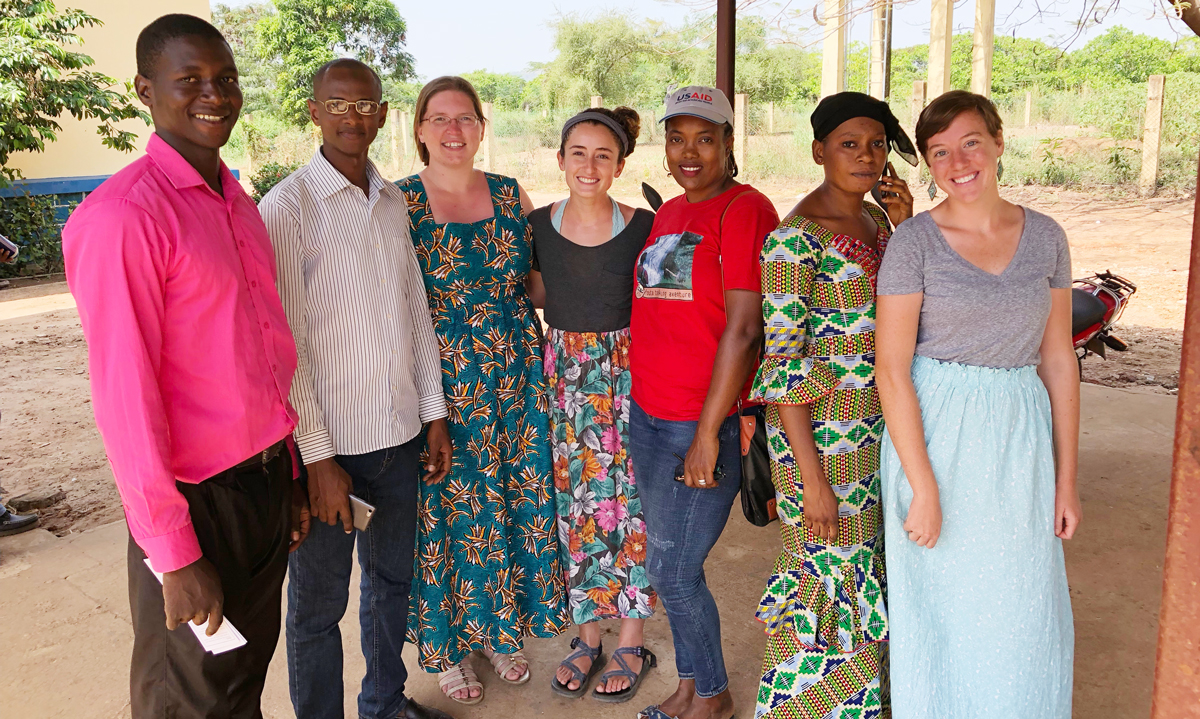 Applying research to teach farmers how to grow higher quality fruits and vegetables
Over the course of several months the interns designed agricultural training sessions around subjects that farmers voiced a desire to learn more about. The trainings encompassed trellising, soil management, disease prevention and food safety and were advertised through Radio Rural de Kinda, in both French and the local language of Susu.
Access to agricultural education and the internet are not as readily available in Guinea as they are in the United States. And agricultural traditions are passed down by family members.
The Horticulture Training and Services Center is working to shift that reality by showing farmers how research-backed growing practices can help them intensify their production and maximize their profits.
"Most people when they are growing, they are just growing by memory from their parents and grandparents," explained Thiam, who is from Guinea and the Horticulture Innovation Lab's manager for the center. "They don't know how to do it better. They just do it the way that parents do it."
Designed by Horticulture Innovation Lab researchers as a catalyst to boost economic growth in Guinea's horticultural sector and the public's access to nutrition security, the Horticulture Training and Services Center is on track to become self-sustaining through the sale of technology, seedling varieties and extension classes after funding and support from the Horticulture Innovation Lab ends.
Next generation of Americans and Guineans working hand in hand
Another key part of this sustainability are the young Guinean agents of extension, entrepreneurship and rural innovation or AVENIRs who are based at the Horticulture Training and Services Center.
The AVENIR program is implemented by Feed the Future Guinea Agricultural Services and functions like an apprenticeship for aspiring agricultural entrepreneurs who often possess both practical and academic agricultural experience. Four AVENIRs are currently based at the Horticulture Training and Services Center. 
By the time they are finished apprenticing at the Horticulture Training and Services Center, they will be equipped to work as extension agents. They will also have the advantage of sharing life experience with the farmers they are encouraging to adopt new farming technologies and practices.
The American interns and Guinean AVENIRs often worked side-by-side, tending to the demonstration garden together and even canning tomato sauce as a team. The arrangement was mutually beneficial — the AVENIRs shared their perspective on the needs of farmers and helped the interns communicate with locals who spoke only Susu. Interns, in turn, shared their academic agricultural knowledge with the AVENIRs.
Stefancik shared her knowledge of plant disease management with 35 farmers and the AVENIRs in a training that was open to the public. She spoke to them about the benefits of crop rotation, displaying groups of fruits and vegetables by botanical families to show which crops can be combined to help reduce disease pressure, noting for example that tomatoes, peppers and eggplant are all Solanaceae species. The farmers and AVENIRs took pictures with their smartphones, excited by the possibility of not only controlling disease, but taking practical steps to prevent it.
Working together to connect with agricultural students
Together, the interns and the AVENIRs visited the National School of Agriculture and Livestock in Tolo to share expertise on how to trellis a plot of tomatoes growing in the school's demonstration garden. The school is in the process of being revitalized and is partnering with the Horticulture Training and Services Center to usher in new technologies to its demonstration garden and curriculum.
"We are starting this initiative with the National School of Agriculture and Livestock-Tolo for its proximity to Kindia," Thiam said. "I am excited to work with students, faculty and staff who are eager and motivated to deepen their knowledge of horticulture cultivation and to experiment with new technologies."
After the interns had returned home to the United States, the AVENIRs have since returned to the school, erecting trellises for tomatoes and moving the partnership forward.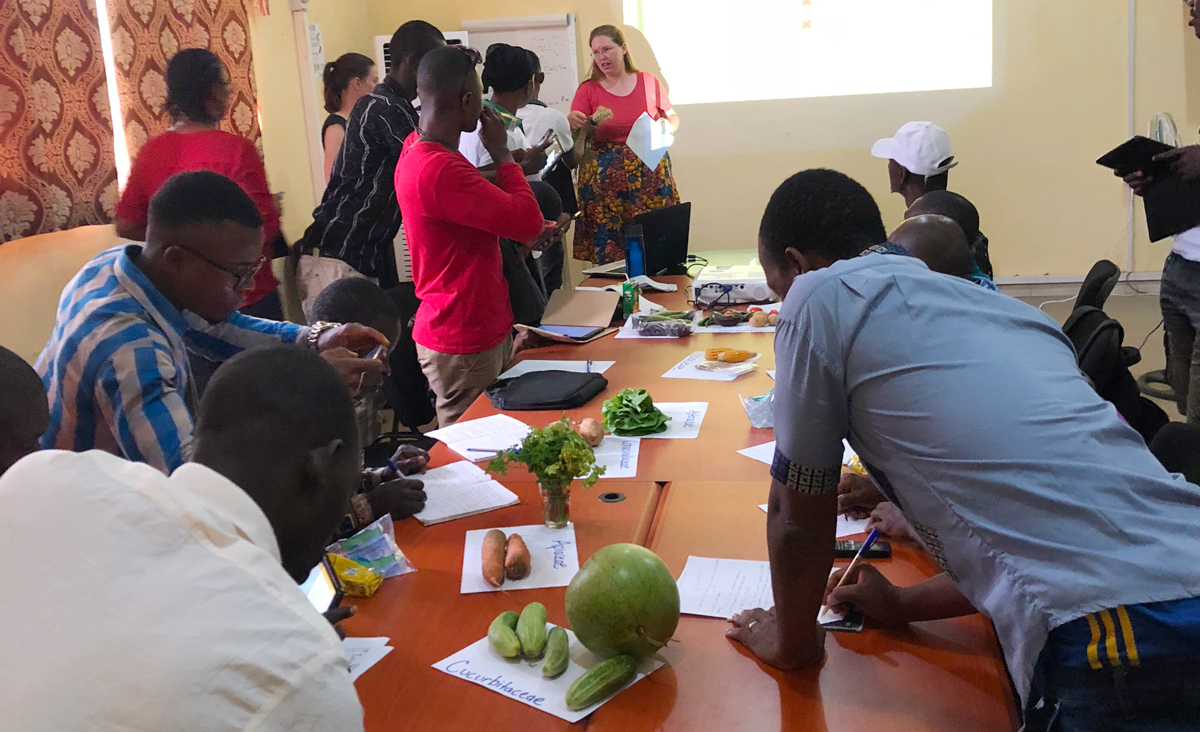 Lessons that ripple outward, in Guinea and Indiana
Back in the United States, Stefancik received a text message that the disease prevention lesson she had taught the AVENIRs had rippled outward. The AVENIRs were espousing the benefits of rotating those trellised tomatoes with other non-Solanaceae vegetables to improve disease management to students and faculty at the school in Tolo.
"The trip to Guinea was the first for the interns," Thiam said. "I think Guinea opened their eyes and minds to new dimension of living that does not exist in the USA. Each of the interns talked about wanting to come back if the opportunity comes up again."
Stefancik has taken lessons learned in Guinea into a new job as an extension educator in 4-H youth development and Agriculture and Natural Resources with Purdue Extension in Sullivan County, Indiana.
"I'm excited to take my stories forward and to share them with the 4-H kids now," she said. "We had an open house for the 4-H program and my county junior leaders were excited to hear about my time in Guinea. I plan to share my experiences with the youth in the future."
More information: