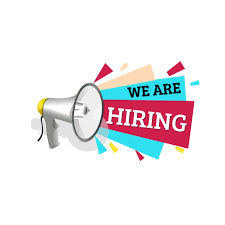 Job Announcement




Post-Doctoral Researcher in Agricultural Innovation Systems with Expertise in Mixed Methods and Social Network Analysis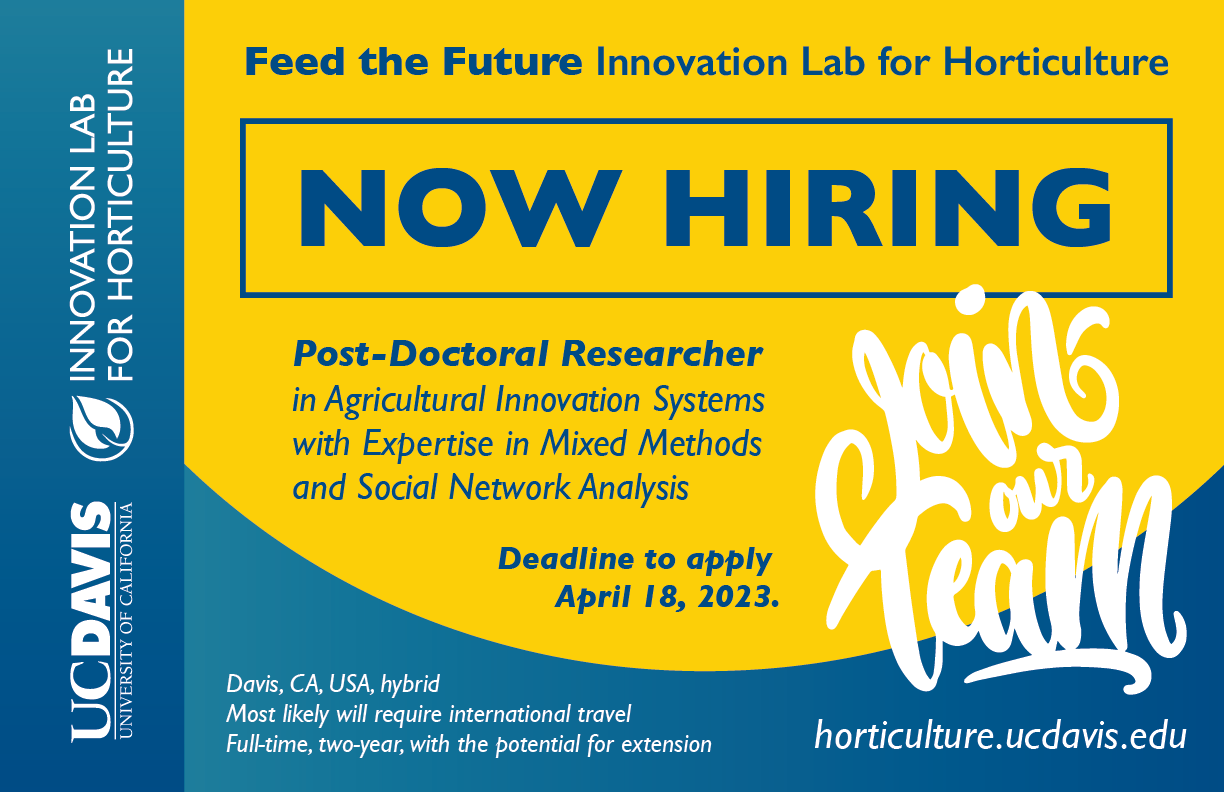 The University of California, Davis-based Feed the Future Innovation Lab for Horticulture is in search of a motivated Post-Doctoral Researcher to join a dynamic team leading and managing a 15 million dollar applied research portfolio in horticulture for small scale farmers in Central America, West Africa, East Africa, and South Asia. The post-doctoral fellow will concentrate on innovation effectiveness and scaling, equity in innovation networks and local-led development. The successful candidate must possess a strong foundation in research methods, particularly mixed methods and triangulation, along with expertise in social network analysis. The post-doc will also have the opportunity to guide other research teams and mentor graduate student researchers. Additionally, if interested, the role may entail co-leading research working groups and seminars. The position most likely will require international travel.
Specifically, this position will be responsible for -
Analyzing network data from horticulture innovation networks in West Africa, East Africa, South Asia, and Central America to study the structure of the innovation networks, characteristics of nodes within those networks, and how that correlates with different perspectives of survey respondents within the network. The study will also collect data over time to understand how the participation of local actors in innovation networks impact the efficacy of the innovation network.

Leading analysis with graduate student researchers on challenges to local-led development from the perspective of a large NGO. This includes survey and interview data on topics such as structural barriers, knowledge gaps, expertise trust, and overall challenges to more robust local-led development. The study also considers different structures that lend to more decentralized, localized decision and power-making centers.

Participating in study design and implementation of innovation evaluation in Nepal, including evaluating innovation nutrition and economic benefits and considering possible paths to scale. The post-doc will mentor and provide guidance to a Nepal-based organization, leading the field effort of this study (contingent on funding).

Participating in thought-leadership concerning equity in innovation and scaling of innovation, specifically working on GenderUp, a tool to help researchers scale innovation for equitable outcomes. This post-doc would assist in continuing this work, as we move toward innovating itself for social transformation and more grassroots applications of GenderUp.
Relevant literature includes multi-stakeholder platforms, agriculture innovation systems, decolonization of knowledge systems, and the science of scaling, among others.
The Horticulture Innovation Lab's primary goal is to empower smallholder farmers to earn more income while better nourishing their communities. The program's work is guided by ensuring gender and social equity, improving information access, targeting innovative technologies, and increasing research capacity. The program collaborates with various stakeholders, including government officials, funders, researchers, policy makers, private sector actors, and others from around the globe. This position may require international travel.
Responsibilities:
Conduct empirical studies on innovation networks, examining the impact of local organizations and other relevant node characteristics, using mixed methods and social network analysis

Lead and contribute to data collection and analyses of innovation impact on outcomes such as nutrition and income

Analyze and interpret data using R and Nvivo

Lead and contribute to research publications and presentations

Contribute to grant writing and editing

Collaborate with other researchers and research teams

May advise and mentor research teams
Qualifications:
PhD in relevant field

Strong research methods experience, particularly in mixed methods and triangulation

Comfortable working with qualitative and quantitative data

Expertise in social network analysis

Experience managing data from surveys, focus groups, and key informants

Proficient in R and Nvivo

Strong analytical skills and attention to detail

Excellent communication skills. Demonstrated self-awareness, cultural competency and inclusivity, and ability to work with colleagues and stakeholders across diverse cultures and backgrounds

Aptitude and inclination towards creative problem solving with transdisciplinary approaches.

Ability to work independently and as part of a team

Ability to work with and communicate effectively with both scientists and non-scientists

Experience in advising and mentoring research teams is a plus
The position is a full-time, two-year role with the potential for extension based on performance and funding availability. It is situated in Davis, CA, USA, and has a hybrid work environment that offers the flexibility to work from the office or remotely. However, candidates must be able to work from the office when required. The anticipated salary falls within the range of $65,000 to $75,000, but will be determined based on the candidate's experience and qualifications. The position is available immediately and will remain open until filled.
To Apply:
For full consideration, applications should be received by April 18, 2023. Please submit a cover letter, curriculum vitae, together with any relevant publications to Erin McGuire at ejmcguire@ucdavis.edu.
The University of California, Davis, is an Equal Opportunity/Affirmative Action Employer. All qualified applicants will receive consideration for employment without regard to race, color, religion, sex, national origin, disability, age or protected veteran status. J-1 Visas will be considered on a case by case basis.
About Us
Funded by the U.S. Agency for International Development (USAID) and based at the University of California, Davis, we work collaboratively with in-country partners to prioritize thought leadership, research management, and capacity strengthening within Africa, Central America and South Asia.