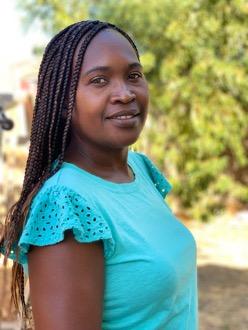 Leadership
Lydiah Maranga is the Program Officer for the Feed the Future Innovation Lab for Horticulture. She holds an MSc. in International Agricultural Development from UC Davis, with an emphasis on project planning & evaluation, plant pathology, and soil science. She also has a B.A. in International relations from the same institution, focusing on Global Health, Environment, and Natural Resources. Born and raised in Kenya, Lydiah saw the effects of poverty on vulnerable people in the rural setup. Due to economic challenges in her community, she aspired to focus on education, which opened doors for her to come to the United States.
After her undergraduate degree, Lydiah worked as a Project Coordinator at Imara Technologies, a private IT company, liaising with international collaborators, including the company's offshore team and the business.  This role exposed her to different application tools for tracking project progress, client relations, and international travel processes. It also allowed Lydiah to travel to the International Institute of Tropical Agriculture (IITA), where the systems were implemented, sparking her interest in the agricultural sector.  Having been raised in a rural environment in Kenya and witnessing research efforts at the IITA Institute in Nigeria, she decided to proceed to graduate school to study and understand how to serve smallholder farmers in developing countries to improve their nutrition and economic status.
While in graduate school, she took up an internship with the Development In Gardening Organization, which allowed her to interact with various people of the organization from different countries to develop social cohesion indicators for their monitoring and evaluation process. The coordinating skills helped her in her role at Stanford University as a Development Coordinator in the Corporate Relations office.
Lydiah likes to share discoveries from her gardening experiences through her social media channels. During her free time, she loves to cook and tries new recipes to promote variety and nutritional content. In quiet moments in the evening, she reads the Economist and Mother Earth News Magazines to update herself on world news and gardening tips.
Organization(s)