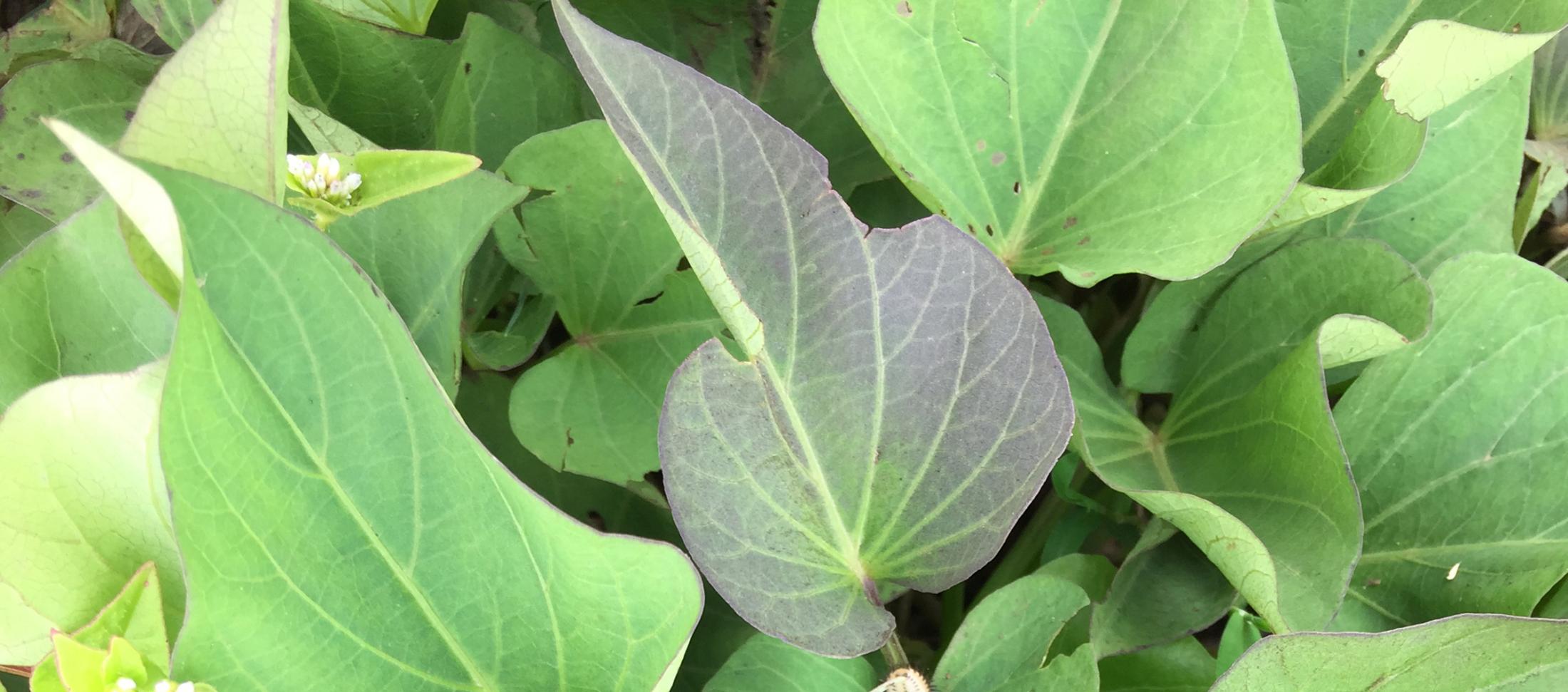 A version of this blog post originally appeared on the UC ANR Food Blog.
New video focuses on taste testing sweet potato leaves, based on Trellis Fund project with farmers in Ethiopia
During this time of year, American holiday feasts often include a traditional dish made with sweet potatoes — roasted, mashed with butter, and topped with treats like marshmallows and pecans. But did you know that the green leaves of the sweet potato plant also have the potential to be a tasty, nutritious food?
In Ethiopia, where sweet potatoes can be a staple crop, UC Davis graduate student Lauren Howe recently worked on a Trellis Fund project led by an organization called Send A Cow Ethiopia (SACE) that helped farmers taste test the leaves and consider this familiar crop in a new culinary light. 
For a quick primer on how to cook sweet potato leaves, watch this new, 2-minute video from the Horticulture Innovation Lab:
The leaves of this drought-tolerant plant offer farming households in Ethiopia an alternative — and nutritious — food in the lean season, while they are waiting for its starchy, tuberous roots to be ready to eat. Introducing sweet potato leaves as a food option is intended to help farmers better diversify their families' diets, to include a wider variety of vegetables in addition to staple foods, especially during the dry season.
Howe wrote about her experiences in Ethiopia in her blog post which was selected as the winner of the Agrilinks Young Scholars blog contest.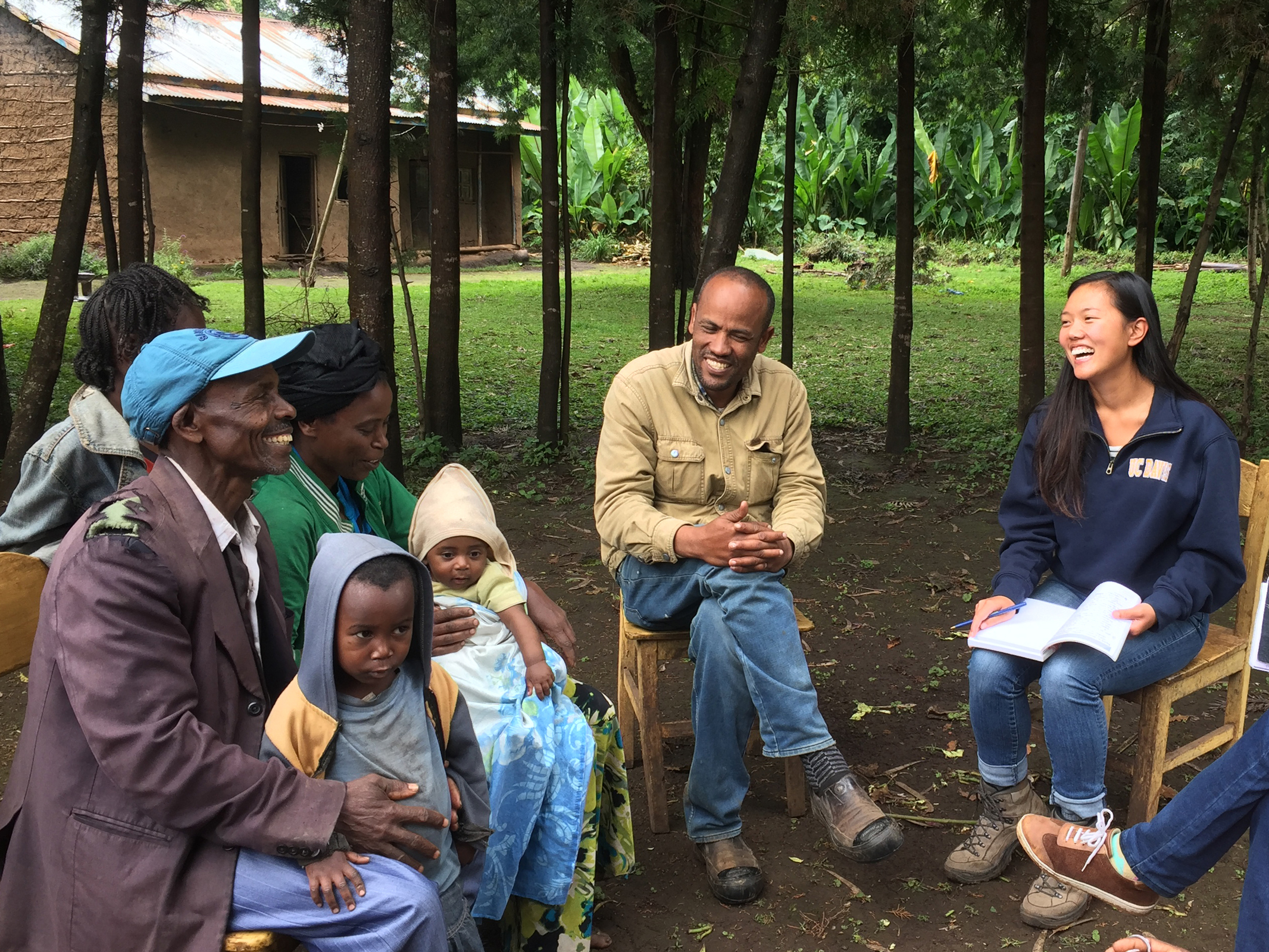 Boots on the ground with sweet potato farmers in Ethiopia
Howe, who is pursuing a master's degree in International Agricultural Development at UC Davis, traveled to Ethiopia this summer as part of a Trellis Fund project. Each Trellis Fund project is supported by the Horticulture Innovation Lab and connects an organization in a developing country with a grad student from a U.S. university. Together, they work to benefit local farmers, while building the capacity of both the in-country organization and the student.
In Ethiopia, SACE helped Howe better understand local contexts by connecting her with farming households to interview about their current farming practices and the role of sweet potatoes in their diets.
Later they traveled to meet with a group of about 25 farmers in the Ukara community to harvest leaves, cook together and discuss their perceptions of the leaves as a vegetable option.
"We are producing a huge amount of sweet potato per year," explained Feleke Lera, a son of farmers in Ukara. "But before, we had no knowledge about the leaves."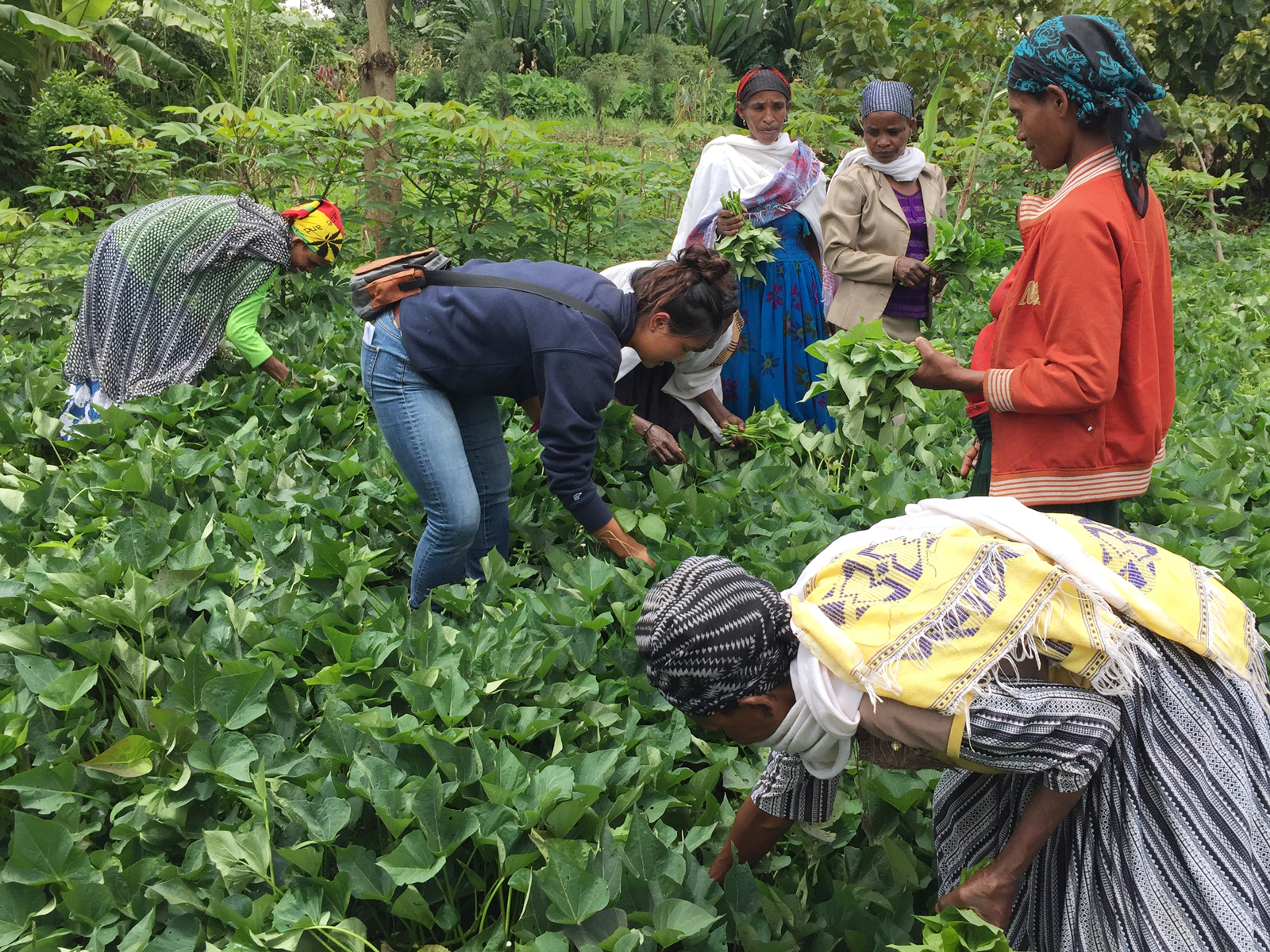 Reflecting on taste tests, new foods, and rural communities
After preparing and tasting the sweet potato leaves, the group in Ukara discussed which dish they preferred, whether they would adopt this new practice of eating sweet potato leaves, how this practice might affect their forage supply to feed their livestock, and what their friends and family members might think of this new food.
"I deeply appreciated how food is truly a universal language and the preparation, cooking and act of eating itself are relatable across cultures," Howe wrote in her blog post.
Howe's own passion for food and witnessing how food can help build community is an important part of her reflection on this experience:
"This project is about creating tasty dishes to persuade people about the nutritional benefits of a new ingredient. It is gathering families, friends and neighbors to sit down to a communal meal (already a strong Ethiopian practice), breaking bread together, sharing stories, experiences and hopes for the future."
For more, go read the rest of Lauren Howe's blog post with an additional travel video too.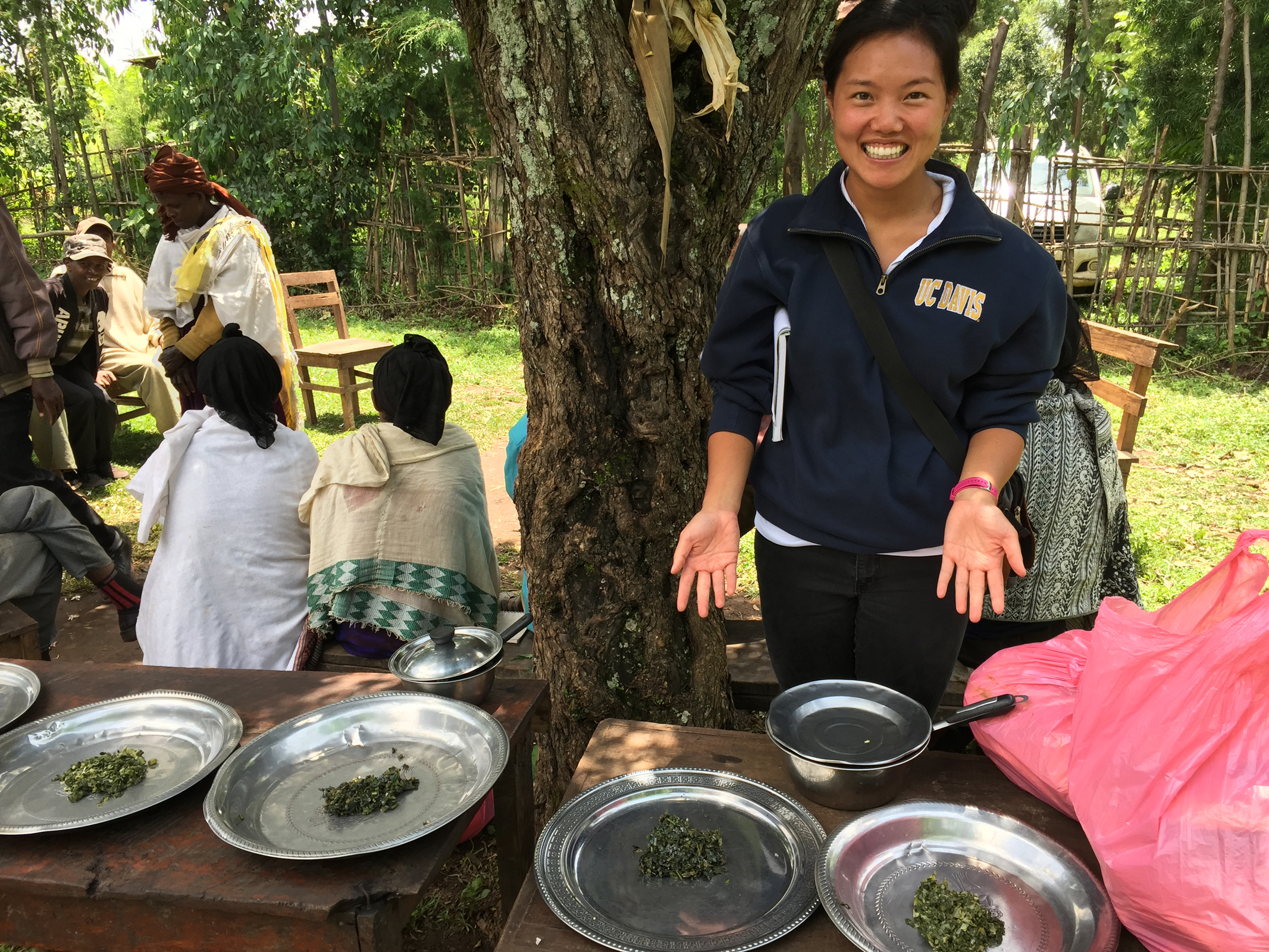 On sweet potatoes, leafy greens, and the Horticulture Innovation Lab
With a focus on fruit and vegetable research, the Horticulture Innovation Lab seeks to empower smallholder farmers in developing countries to earn more income and better nourish their communities. The program is led by a team at UC Davis with funding from the U.S. Agency for International Development, as part of the U.S. government's global Feed the Future initiative.
Previous research from the Horticulture Innovation Lab has focused on other leafy green vegetables, specifically African indigenous vegetables, and also on sweet potatoes themselves (orange-fleshed sweet potatoes, that is). Though the program has not done in-depth research on sweet potato leaves for human consumption beyond this Trellis Fund project, more information about eating sweet potato leaves and tips is available in this bulletin from the University of Arkansas Cooperative Extension. The University of California Vegetable Research and Information Center also has a wealth of information about sweet potato farming and gardening.
More information: