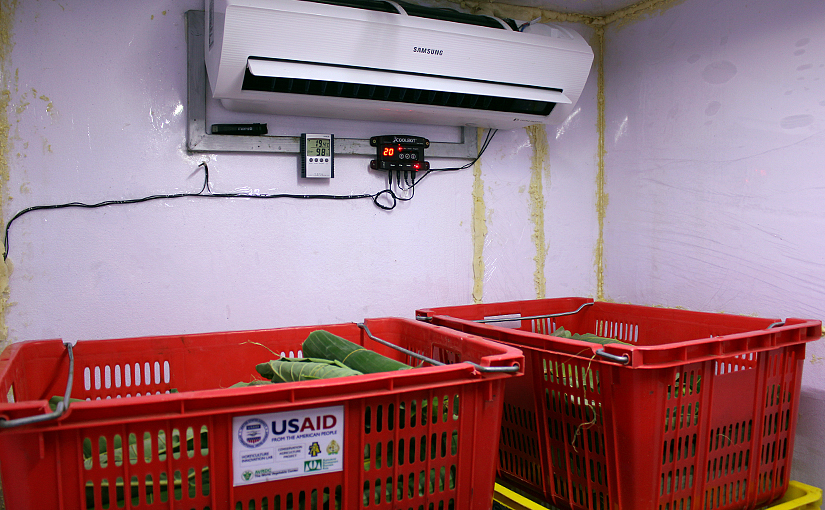 While the Horticulture Innovation Lab team was recently in Cambodia for its 2016 annual meeting, reporter Jonathon Cox of the Khmer Times in Phnom Penh reached out to learn more about how farmers in Cambodia are using the CoolBot. He had heard about the device at the recent Cambodia Science & Engineering Festival.
The article Cox wrote, "Helping Farmers Keep Their Cool" was published in the newspaper this week.
For it, he interviewed Elizabeth Mitcham, director of the Horticulture Innovation Lab at UC Davis, about the program's use of the CoolBot in Cambodia.
"I think that cooling is essential to develop a vibrant produce industry in Cambodia based on local products," Mitcham said. Current estimates suggest 70 percent of fresh fruits and vegetables in Cambodia are imported from nearby countries.
At the Royal University of Agriculture in Phnom Penh, researcher Borarin Buntong — one of the Horticulture Innovation Lab's partners — has built a cold room equipped with a CoolBot to use for trials with his Postharvest Lab and the Faculty of Agro-Industry. He has also worked with local store owners who are interested in storing their fresh vegetables with the help of a CoolBot. His work with the CoolBot started in support of a project focused on safe vegetable production, with UC Davis partners Cary Trexler and David Miller.
Elsewhere, near Siem Reap, a farmers cooperative working with another Horticulture Innovation Lab project, is using a CoolBot cold room to collect their vegetables. Their CoolBot was installed with help from Jate Sathornkich and the Horticulture Innovation Lab Regional Center at Kasetsart University, in Thailand.
The farmers using the CoolBot are growing their vegetables using conservation agriculture practices, which also builds better soil, with scientific leadership from Manuel Reyes, professor at North Carolina A&T State University. Then the farmers cooperative is trying a new way to market their high quality vegetables directly to neighborhoods in Siem Reap.
When it comes to building a cold room with a CoolBot, costs vary locally to build an insulated room, purchase an air conditioner, and pay for electricity. But the costs are consistently lower than other cooling options, and many projects have found farmers can recoup costs through their sales.
"If the growers can make enough money selling the vegetables to cover the cost of the cool room, then the technology can spread," Mitcham told the reporter. "There appears to be good demand for high quality local vegetables."
More information: