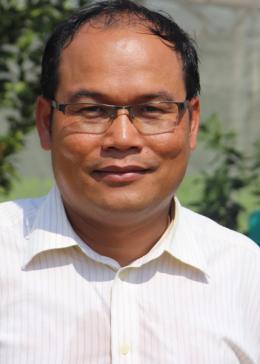 Alumni
Director, Division of Research and Extension
Based In
Phnom Penh, Cambodia
Dr. Borarin Buntong is Director of Research and Extension at the Royal University of Agriculture in Cambodia. He has worked as a collaborator and in-country lead on multiple Horticulture Innovation Lab projects, in collaboration with the University of California, Davis. 
He has been affiliated with the Royal University of Agriculture for more than 15 years as a lecturer, lab supervisor, vice dean and director. He has supervised hundreds of students pursuing bachelor's degrees in Agro-Industry, master's degrees, and doctoral degrees. He currently coordinates research activities of the university, develops training materials for extension. He has also helped develop a new master's degree curriculum for the university. 
His field of study is postharvest technology of horticultural produce and cereal grains. Specifically, he conducts research and training in packaging and storage of fresh produce. Borarin also conducts research to develop sustainable value chains and improve production of safe vegetables through the use of compost and nethouses in Cambodia. He conducts training in postharvest practices for various stakeholder groups including farmers, extension staff and agriculture officers from provincial departments in Cambodia.
He has also collaborated in postharvest technology research and training throughout Thailand, Vietnam, Laos, Philippines and Myanmar. He has a working understanding of the Thai language.
Borarin holds doctoral and master's degrees in Postharvest Technology from King Mongkut's University of Technology Thonburi in Thailand, and a bachelor's degree in Agricultural Engineering from the Royal University of Agriculture.
Favorite fruit:
Mangosteen 
What do you like most about science?
Postharvest Technology 
Best thing about collaborating across borders:
Working with UC Davis
Organization(s)