A new invention from UC Davis researchers won a competition as the top emerging technology to reduce food loss and waste across the African continent.
The low-cost tool, called the DryCard™, shows farmers whether their dried food products are dry enough to store safely, reducing food losses and risks of mold and associated toxins.
The DryCard beat out more than 200 entries to win the grand prize in the "All Africa Postharvest Technologies and Innovation Challenge." Top technologies and innovations were invited to pitch to an audience of about 600 participants, including private investors and international organizations, at the first All-Africa Postharvest Congress and Exhibition, March 31 in Nairobi, Kenya.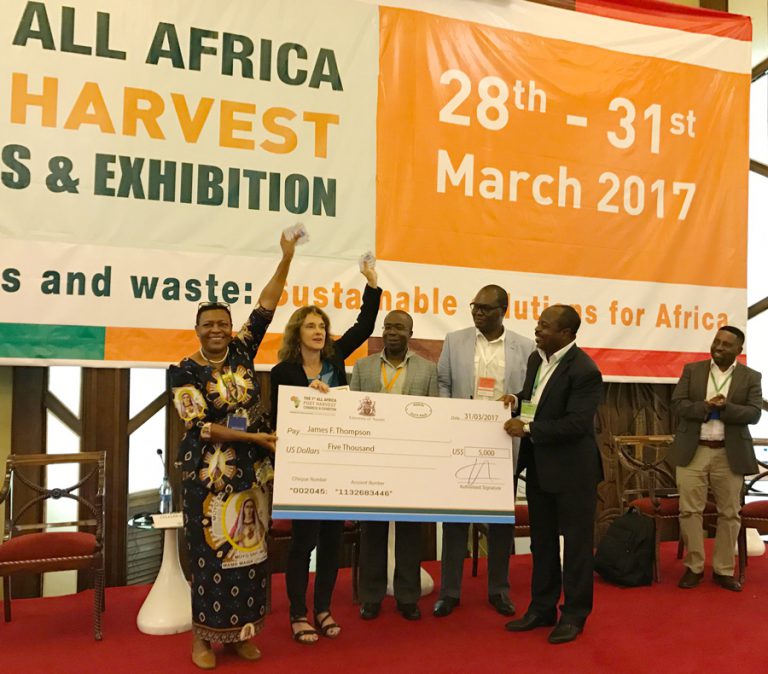 Elizabeth Mitcham, director of the Feed the Future Innovation Lab for Horticulture and a UC Cooperative Extension specialist in postharvest biology for the UC Davis Department of Plant Sciences, represented the DryCard during the competition.
"I have never seen such strong interest in a technology like this," Mitcham said. "I think it shows a tremendous need for a solution that can increase awareness of moisture content of dried food products. This technology has high potential to make an impact—and not only with dried produce and vegetable seeds, which was our original intent. A lot of the interest we have seen is from organizations that work with staple crops too."
"My hope is that we will find entrepreneurs and donors to help us spread this technology, so that every farmer who dries produce has access to it," she said.
Engineering a postharvest solution that costs pennies to make
The DryCard is the brainchild of Mitcham's UC Davis colleagues Michael Reid and Jim Thompson, who have a history of working together in California and around the world on postharvest technologies to reduce crop losses. During a Horticulture Innovation Lab workshop in Tanzania last year, Reid tested local dried foods as a class exercise and was driven to action by the magnitude of the problem.
Read more about the backstory: Inventing a low-cost solution to reduce moldy foods
The pair's solution is about the size of a business card, with a strip of cobalt chloride paper that changes color based on humidity, a color index and directions. With a DryCard and an airtight container, farmers can easily test a sample of their product for dryness in 20-30 minutes.
"The DryCard requires zero calibration and can be reused many times for any kind of food you want to keep free of mold," Thompson said. "Everything is on the card. The cobalt chloride strip is attached so it's easy to keep track of, and the color guide is right there."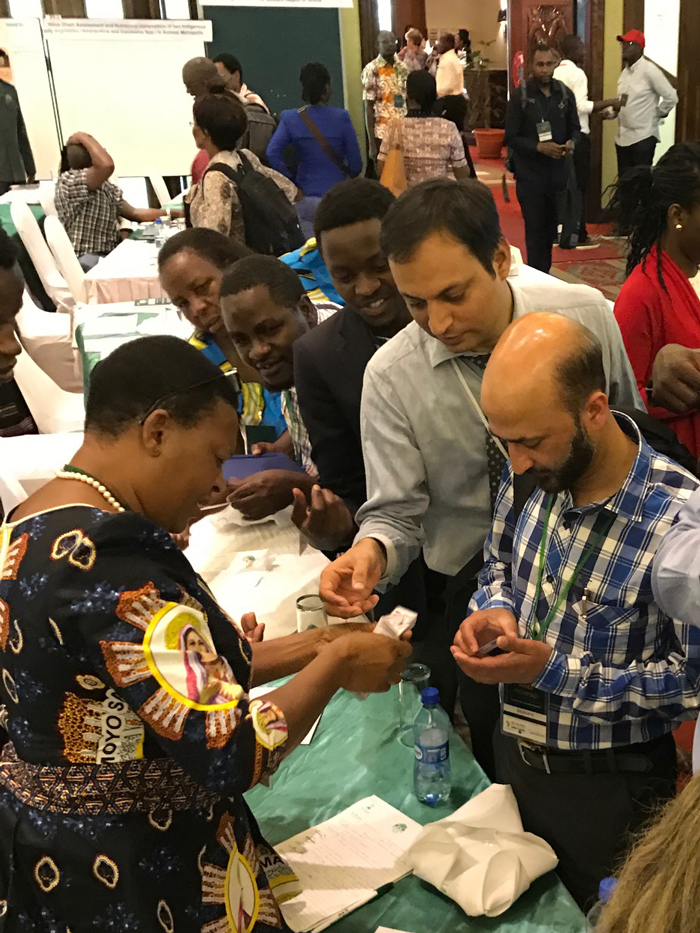 Easy-to-use tool for farmers to reduce molds, toxins in food storage
So far, the Horticulture Innovation Lab has offered samples of the DryCard in multiple languages to researchers who can try the tool out in real-world situations.
Bertha Mjawa is one of the first researchers to test out and promote the DryCard in Africa, during her work with the Market Infrastructure, Value Addition and Rural Finance Program with the Tanzania Prime Minister's Office.
"The DryCard makes a promising solution for African farmers due to its cost effectiveness, clear indicators and ease of use," Mjawa said. "Both farmers and agricultural experts can benefit from this technology."
The win came with a $5,000 prize, for promoting and scaling out the DryCard. The team is interested in connecting with entrepreneurs who are interested in manufacturing and selling the cards. Their pitch during the competition estimated that approximately $70,000 could help the DryCard spread across seven African countries.
Read more about the Horticulture Innovation Lab's participation in the first All-Africa Post Harvest Congress
The Horticulture Innovation Lab builds international partnerships for fruit and vegetable research that improves livelihoods in developing countries in Africa, Asia and Central America. The research program is led by UC Davis with funding from the U.S. Agency for International Development, as part of the U.S. government's global hunger and food security initiative called Feed the Future. Including the Horticulture Innovation Lab, UC Davis leads five Feed the Future Innovation Labs focused on improving agriculture to reduce poverty—more than any other university.
More information: